Do you have a website that no-one can find?
Even if you've got your site listed with Google, how do you get on that first page of the search results?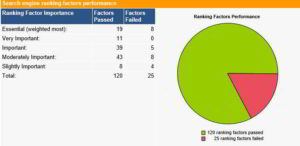 Did you know that to get a better listing in Google, Yahoo, BING and many other search engines,  your site should be optimized to meet their criteria. Search Engine Optimization (SEO) and Search Engine Marketing  makes sure your website meets these needs and, if done correctly will ensure you have the targeted potential business directed to your website – Not your competitor! As the criteria which the search engines uses to rank your site changes regularly this is an ongoing task and will do nothing if you do it just once and leave it.
What is SEO – Your website structure and content meets the criteria the search engines are looking for.
What is SEM – You pay a third party to market your website for you. Normally using search engine services like Google AdWords
If you already have a website we will give you a FREE site evaluation now to see how well your site ranks. What have you got to loose it is free with no obligations!
Request a site evaluation report
Some things to consider:
– Find out how search engine optimization and search engine marketing can make your website compete with the best. (ask the tough questions – what do I need and why? how much will this cost me? are there any contractual obligations if I do this? and what can I expect in return)?
– The steps you need to take to ensure your website is a success.Research the market and find out WHAT people are looking for in your area -(This might NOT be what you were going to offer)!
– Create your content – what do you want your visitors to know, do, understand or be informed of etc.
– Make sure the site is optimized for the main focus of the site.
– Find copyright free pictures / videos you can use on your site or get studio standard pictures taken of your business. – "happy snaps just do not work anymore"
– Use website analytics to monitor its performance and adjust pages accordingly.
– Maintain your site by adding new content at least every 2 weeks and checking all functions (links, plugins and apps) all work correctly in multiple browsers.
– Use videos wherever you can especially in testimonials or product descriptions.
– Promote your site through on line and off line strategies
Remember that you must design your website for your customers – not what you like and want to see. So many sites out there will never ever be successful because they are difficult to navigate through, the content is hard to read and follow, different pages have different themes running through them, links are broken or take you to a different site with no easy way to go back to your site, forms ask for too much information and a whole range of other on site foopahs!
When it comes to the search engines crawling your site to determine how relevant it is to the topic, if you have not optimized the site the chances are that you will never be seen on the first few pages of the search engines. without this source of traffic the amount of new visitors to your site will be dramatically reduced. You must use current search engine optimisation (SEO) techniques to ensure you have the best possible chance of being seen.